1st Cavalry Division
Distinguished Service Cross Recipients
261 Distinguished Service Crosses in Four Wars
Troopers of the 1st Cavalry Division have been awarded 261 Distinguished Service Crosses in four wars, with 113 of them being awarded posthumously.  There were no Distinguished Service Crosses awarded to First Team Troopers during the Gulf War or from service in Afghanistan.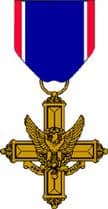 Distinguished Service Cross
The Distinguished Service Cross (DSC) is the second highest military decoration that can be awarded to a member of the United States Army (and previously, the United States Army Air Forces). It is awarded for extraordinary heroism:
While engaged in action against an enemy of the United States;
While engaged in military operations involving conflict with an opposing foreign force; or
While serving with friendly foreign forces engaged in an armed conflict against an opposing armed force in which the United States is not a belligerent party.
Actions that merit the Distinguished Service Cross must be of such a high degree that they are above those required for all other U.S. combat decorations but do not merit award of the Medal of Honor. The Distinguished Service Cross is equivalent to the Navy Cross (Navy and Marine Corps, and Coast Guard when operating under the authority of the Department of the Navy) and the Air Force Cross (Air Force).
---
Lists and citations by war may be viewed by clicking on the buttons below.
We honor these brave Troopers.

Ghosts of Fallujah
Ghosts of Fallujah (written by Coley D. Tyler) is a first person account of the Second Battalion, Seventh Cavalry's participation in the Second Battle of Fallujah, the largest single engagement of the Iraq War and the largest urban battle since Hue in 1968. A First Marine Division operation, it was spearheaded by one of the […]

Public Request for Division Assets (Band/Horse Cav Detachment/Honor Guard)
Need to request a Division asset: the Band, Horse CAV Detachment, or Honor Guard? Fill out the provided DD Form 2536 and email it to: SFC Kristin M. Chandler at usarmy.hood.1-cd.mbx.1cd-division-comrel@mail.mil.  If you have any questions about filling out the form call SFC Chandler at 254-288-2601. DD2536 Asset Request Form