Citation:
For extraordinary heroism in action while serving with Company A, 1st Battalion, 227th Aviation Regiment, 1st Air Cavalry Brigade, Multi-National Corps-Iraq. Chief Warrant Officer Four Yoakum distinguished himself as a Pilot of an AH-64D Longbow Apache Helicopter on 2 February 2007 while engaged in aerial operations in Baghdad, Iraq, during Operation IRAQI FREEDOM. During a reconnaissance mission, Chief Warrant Officer Four Yoakum's aircraft was seriously damaged by heavy enemy machine gun fire, which required him to land immediately. Without regard for his own safety and to protect his comrades, Chief Warrant Officer Four Yoakum chose to remain with his wingman to destroy the enemy. With his main gun inoperable, his only option was to climb in altitude and then dive while firing his Apache's rockets. Ultimately the aircraft succumbed to its battle damage and crashed. Chief Warrant Officer Four Yoakum's distinctive accomplishments and dedication to service to his country are in keeping with the finest traditions of the military service, reflecting great credit upon himself, the 1st Cavalry Division, the Multi-National Corps-Iraq, and the United States Army.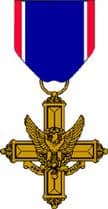 Distinguished Service Cross
The Distinguished Service Cross (DSC) is the second highest military decoration that can be awarded to a member of the United States Army (and previously, the United States Army Air Forces). It is awarded for extraordinary heroism:
While engaged in action against an enemy of the United States;
While engaged in military operations involving conflict with an opposing foreign force; or
While serving with friendly foreign forces engaged in an armed conflict against an opposing armed force in which the United States is not a belligerent party.
Actions that merit the Distinguished Service Cross must be of such a high degree that they are above those required for all other U.S. combat decorations but do not merit award of the Medal of Honor. The Distinguished Service Cross is equivalent to the Navy Cross (Navy and Marine Corps, and Coast Guard when operating under the authority of the Department of the Navy) and the Air Force Cross (Air Force).

Ghosts of Fallujah
Ghosts of Fallujah (written by Coley D. Tyler) is a first person account of the Second Battalion, Seventh Cavalry's participation in the Second Battle of Fallujah, the largest single engagement of the Iraq War and the largest urban battle since Hue in 1968. A First Marine Division operation, it was spearheaded by one of the […]

Public Request for Division Assets (Band/Horse Cav Detachment/Honor Guard)
Need to request a Division asset: the Band, Horse CAV Detachment, or Honor Guard? Fill out the provided DD Form 2536 and email it to: SFC Kristin M. Chandler at usarmy.hood.1-cd.mbx.1cd-division-comrel@mail.mil.  If you have any questions about filling out the form call SFC Chandler at 254-288-2601. DD2536 Asset Request Form