Poetry of
"The First Team"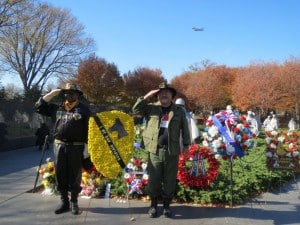 Fiddler's Green
Halfway down the trail to Hell,
In a shady meadow green
Are the Souls of all dead Troopers camped,
Near a good old-time canteen.
And this eternal resting place
Is known as Fiddlers' Green.
Marching past, straight through to Hell
The Infantry are seen.
Accompanied by the Engineers,
Artillery and Marines,
For none but the shades of Cavalrymen
Dismount at Fiddlers' Green.
Though some go curving down the trail
To seek a warmer scene.
No Trooper ever gets to Hell
Ere he's emptied his canteen.
And so rides back to drink again
With friends at Fiddlers' Green.
And so when man and horse go down
Beneath a saber keen,
Or in a roaring charge of fierce melee
You stop a bullet clean,
And the hostiles come to get your scalp,
Just empty your canteen,
And put your pistol to your head
And go to Fiddlers' Green.
It should be noted that all that have been assigned or attached to the 1st Cavalry Division are Cavalry Troopers regardless of their branch assignment or military occupation skill and are therefore authorized to rest at Fiddler's Green.
Background
Fiddler's Green is a legendary imagined afterlife, where there is perpetual mirth, a fiddle that never stops playing, and dancers who never tire. Its origins are obscure, although some point to the Greek myth of the "Elysian Fields" as a potential inspiration. In general, historical data, referencing Fiddler's Green refers to both the sailor's and cavalry's paradise. The Oxford English Dictionary, 2nd Edition (OED2) has a citation from 1825 as the sailor's paradise. Since the 19th century, British sailors have called the traditional heaven of mariners Fiddler's Green, "a place of unlimited rum and tobacco."
Old seamen are such notorious yarn spinners that it is difficult to know which of their stories to believe about Fiddler's Green. Some say that an old salt who is tired of seagoing should walk inland with an oar over his shoulder. When he come to a pretty little village deep in the country, and people ask him what he is carrying, he will know he has found Fiddler's Green. The people will give him a seat in the sun outside the village inn, with a glass of grog that refills itself every time he drains the last drop and a pipe forever smoking with fragrant tobacco. From then onwards he has nothing to do but enjoy his glass and pipe, and watch the maidens dancing to the music of a fiddler on the village green.
Many believe that the origin and author of Fiddler's Green may have originated by the 5th Royal Irish Lancers who trace their origin back to 1689 when a cavalry formation known as Wynne's Regiment of Enniskillen Dragoons was formed by the then governor James Wynne. Although there no evidence that the Irish Lancers appropriated the paradise and incorporated it into a poem that emigrated to the US with its members, or whether the paradise and poem are of US origin.
The cavalry paradise reference seems to be associated with the 7th US Cavalry from the post Civil War era and the Indian Wars period (circa 1860-1870). Now, there is a link between the 7th US Cavalry and Ireland. Many Troopers of the 7th Cavalry were of Irish origin, and the 7th Cavalry's own insignia has the phrase "Garryowen" on it. "Garryowen" is a derivative of the Irish Gaelic Garraí Eóin which means Owen's Garden. Owen's Garden was a commons (open field) in Limerick, Ireland that gave rise to a drinking ballad of the same name. The 5th Royal Irish Lances, an Irish cavalry unit, used that drinking ballad.
The story of Fiddler's Green was first published in the 1923 volume of the Cavalry Journal. According to this article, it was inspired by a story told by Captain "Sammy" Pearson at a campfire in the Medicine Bow Mountains of Wyoming. Common usage also seems to hold this view. as included in John Connally's (Ireland) song from circa 1960 and the Stereophonic's (Welsh Band) song from late 1990's. Fiddler's Green is listed sometimes as a poem and other times as a cavalry prayer.
It is still used by modern cavalry units to memorialize the deceased. The name has had other military uses. Fiddler's Green was an artillery Fire Support Base in Military Region III in Vietnam in 1972 occupied principally by elements of 2nd Squadron, 11th Armored Cavalry. More recently, in the heart of the Helmand River Valley, in Helmand Province, Afghanistan, the US Marine Corps operated a firebase (FB) named Fiddler's Green.

Ghosts of Fallujah
Ghosts of Fallujah (written by Coley D. Tyler) is a first person account of the Second Battalion, Seventh Cavalry's participation in the Second Battle of Fallujah, the largest single engagement of the Iraq War and the largest urban battle since Hue in 1968. A First Marine Division operation, it was spearheaded by one of the […]

Public Request for Division Assets (Band/Horse Cav Detachment/Honor Guard)
Need to request a Division asset: the Band, Horse CAV Detachment, or Honor Guard? Fill out the provided DD Form 2536 and email it to: SFC Kristin M. Chandler at usarmy.hood.1-cd.mbx.1cd-division-comrel@mail.mil.  If you have any questions about filling out the form call SFC Chandler at 254-288-2601. DD2536 Asset Request Form